Panasonic KX-NT136 IP PHONE - 24 BUTTON, SIX LINE BACKLIT LCD, SPEAKER-PHONE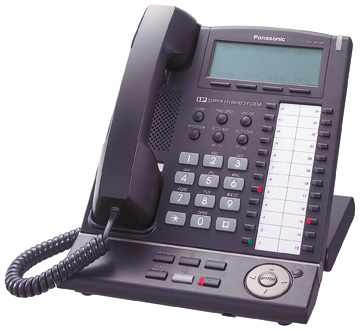 Equipped with a 6 line backlit LCD display, 24 Programmable buttons, 12 fixed buttons for (Intercom, Conference, Pause, Forward/Do Not Disturb, Flash/Recall, Auto Answer/Mute, Auto Dial/Store, Hold, Transfer, Message, Redial, Flash/Recall and Speakerphone.) Also equipped with a Navigation Key, Headset Jack and can be Wall Mounted. The KX-NT136 IP Phone can only be connected to a managed wide area or local area network. Requires KX-TDA0470 16 channel IP extension card to be installed in KX-TDA100 or KX-TDA200 and connected to the same network. The KX-NT136 can be powered through the LAN (POE) or an optional power adaptor KX-A237(sold separately).
For pricing (Click here to contact us by email) or Call 1-800-474-8744.
Click Here For the Phone Systems Package Page